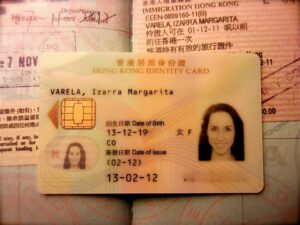 Kartu Tanda Penduduk (KTP) sering dianggap penting untuk dimiliki oleh warga negara. Di Indonesia sendiri KTP wajib dimiliki oleh setiap warga negara yang berusia di atas 17 tahun. Di negara-negara lain, tentu regulasi-regulasi yang diterapkan untuk kepemilikan KTP berbeda-beda.
Nah bagaimana dengan kepemilikan KTP di Hong Kong? Ketika Anda berada di Hong Kong dalam jangka waktu lama, Anda diharuskan memiliki KTP Hong Kong dalam waktu 30 hari setelah kedatangan. KTP Hong Kong bisa didapatkan di Kantor Pendaftaran Perorangan, Departemen Imigrasi yang tertera pada tabel di bawah ini :
| | | | |
| --- | --- | --- | --- |
| Nama Kantor | Alamat | Telepon | Fax |
| Registration of Persons-Hong Kong Office | 8/F, Immigration Tower 7 Gloucester Road Wan Chai, Hong Kong (Wan Chai MTR Station-Exit A5) | 2824-6111 | 2824-1810 |
| Registration of Persons-Kowloon Office | 3/F, Cheung Sha Wan Government Offices 303 Cheung Sha Wan Road, Kowloon (Sham Shui Po MTR Station-Exit C1) | 2150-7933 | 2369-4825 |
| Registration of Persons-Kwun Tong Office | Shop Nos. 25-35 & 43-45, G/F Wharf T &T Square 123 Hoi Bun Road Kwun Tong, Kowloon (Ngau Tau Kok MTR Station-Exit B6) | 2755-9545 | 2795-3625 |
| Immigration and Registration of Persons-Fo Tan Office | Shops 405-406, 4/F Jubilee Square 2-18 Lok King Street Fo Tan, New Territories (Fo Tan MTR Station-Exit C) | 2653-3116 | 2650-4766 |
| Immigration and Registration of Persons-Yuen Long Office | Shop B, G/F Manhattan Plaza 23 Sai Ching Street Yuen Long, New Territories (Tai Tong Road Light Rail Station) | 2475-4114 | 2474-3962 |
Bawalah paspor dan dokumen perjalanan lain untuk memperoleh KTP ini. Isilah data-data pribadi dengan benar, atau Anda akan menemui kesulitan-kesulitan terkait hukum di kemudian hari. Jika Anda ingin menghemat waktu, gunakanlah sistem reservasi 24 jam dengan membuat janji lebih awal melalui telepon 2598-0888 atau melalui website bisa klik di sini.
Menurut hukum yang berlaku, Anda diharuskan membawa KTP karena merupakan dokumen krusial. Simpanlah KTP di dalam dompet atau tas agar kondisi kartu tidak cepat rusak dan terjaga dengan baik. Jika KTP hilang, cacat, dan rusak, laporkan segera kepada Kantor Pendaftaraan Perorangan dengan jangka waktu 14 hari dan segera mengajukan permohonan KTP baru.
Jika ada perubahan pada data pribadi Anda yang sudah terdaftar, segera sampaikan kepada Kantor Pendaftaraan Perorangan. Di pembahasan berikutnya, kami akan memaparkan kondisi kerja di Hong Kong. Bagi kawan-kawan buruh migran yang mengerti lebih jauh tentang Hong Kong, silakan memberikan masukan-masukanya.