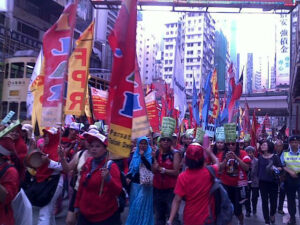 Rally by BMI in Hong Kong who joins Repeal Law No 39/2004 PPTKILN Alliance during International Labour Day
May Day or World Labor Day is celebrated every May 1st. World Labor Day in Hong Kong was marked with a rally by over 800 Indonesian Migrant Workers (BMI) (01/05/12). BMI who joins in Repeal Law No. 39 of year 2004 PPTKILN Alliance staged a rally from 12.15 to 13.00 Hong Kong time.
Some of the demands from BMI were to repeal Law number 39 of year 2004 PPTKILN, apply independent contract, remove KTKLN, and give the best service to BMI. After the rally, the BMI walked to Victoria Park field to joining local labor community.
The rally in front of KJRI was then continued by Kotkiho organization from 13.00 to 14.00. At 2.30, the demonstrators would move to Hong Kong government office in Central area.
International Labour Day should be a momentum for the government to reflect and fix various things regarding BMI problems. Besides the problems of BMI in Hong Kong, KJRI should also be responsible to provide protection to thousands of BMI in Macau. It should be known that there is no official representative for Indonesian government in Macau. While KJRI in Hong Kong which doubles as representative in Macau only provides service every Saturday and Sunday, and only limited to administrative services regarding passport.
The problems of BMI in Hong Kong will continue to pile up if KJRI as Indonesian Government representative doesn't have the commitment to listen to the voices of migrant workers. It will be tragic if the voices of hundred of Hong Kong BMI during the international labour day is ignored by KJRI Hong Kong.