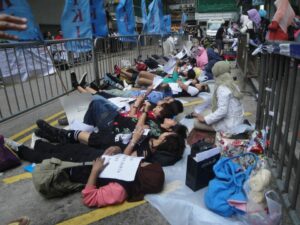 Indonesian Migrant Workers (BMI) in Hong Kong performed another demonstration in front of Indonesian Consulate General (KJRI), Sunday (8/4). This action was coordinated by Indonesian Migrant Worker Association (ATKI) in Hong Kong as a critic to the government who remains silent to the demands of BMI. There was something different in this demonstration, this time the BMIS did the demonstration by sleeping and keeping silent.
Tens of BMIs who joined this silent action then slept in front of Indonesian General Consulate in Hong Kong. They have gone to the General Consulate tens of time to protest various policies they took which are very damaging to the BMIs. For example, BMIs aren't allowed to change their agents, BMI are also not allowed to wait for vise in Macau/China, and not allowed to apply for independent contract and various other policies which are very disadvantageous to BMIs.
Not to mention there was the unfriendly treatment from KJRI staffs. They don't want to serve BMIs who come in sandals and wear t-shirt, although there is no rule against this in Hong Kong. In Hong Kong there is no staff who discriminates in serving Indonesian citizens or citizens of other counties although they wear sandals and t-shirts. Why does this treatment come from Indonesian government in Hong Kong? That is strange.
BMI will tirelessly fight the injustice. The action will be done every Sunday in front of KJRI in Hong Kong. Keep fighting, my friends.
BMIS FIGHTING TOGETHER WILL DEFINITELY WIN