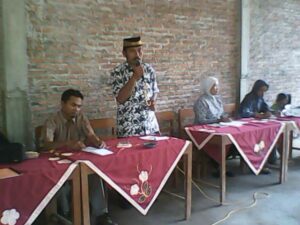 (**)
BANYUMAS. A head village is a leader of his/ her village areas. The head village is required to be a figure that is able to contribute his/ her thought as well as to enlighten his/ her people. The present kades (heads of village) is different from the one in the past which is although his/ her performance is not considered maximal; he/ she will remain receiving extraordinary honour from his/ her people.
This made Kursus (50), the head village of Cilangkap, Gumelar district, Banyumas, very enthusiastic about the partnership programs bridged by the migrant care association and SERUNI women of Banyumas (paguyuban peduli buruh migran dan perempuan SERUNI Banyumas).
"At least, through the existence of the migrant association, there is an effort to share information one another among the Indonesian Migrant Worker (Tenaga Kerja Indonesia (TKI)) community of our village," said the village head of Cilangkap to SERUNI in his office.
Kursus along with his wife once earned money in the Jiran country of Malaysia for more than six years. Financial issues of their family became the problems why they had to work as a TKI. He and his wife returned from Malaysia after feeling that their financial capital sufficient.
This married couple left for Indonesia in 2007. Kursus who loves being involved in organisasions in his village, were not awkward to come into the society. In 2009, he registered himself in an election of head villages and won it. Now, he is leading that village of 2542 souls.
When SERUNI entered the village of Cilangkap for the first time and tried to explore the potential of the Indonesian Migrant Workers in the village, Kursus welcomed us enthusiatically. As a former TKI, he assumed that many things needed developing and socializing in the village of Cilangkap.
"I feel really happy with the existence of former TKI friends in SERUNI who pay attention to the former TKIs of our village," he said before the participants of the village discussion (25/3/2012). Through support and his seriously sufficient role, mainly upon migrant workers; therefore, the team of the Social Service Department of the area office of the Central Java province planned to visit the village of Cilangkap on 18 April 2012 to select former migrant workers to receive training and candidates to receive grant of Usaha Ekonomi Produktif (Productive Economic Enterprises).