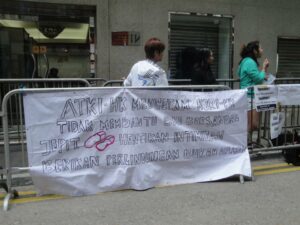 Indonesian General Consulate (KJRI) in Hong Kong is getting less friendly with Indonesian Migrant Workers (BMI). KJRI as the representative of Indonesian government in Hong Kong should have helped the citizens in trouble. But in fact many BMIs hesitate to come because of the passive service provided by KJRI and the discriminative treatment.
Many KJRI staffs are very unfriendly with BMIs who come to KJRI office. BMIs are often yelled at and become the target of their anger. Especially if the KJRI staff finds out that the BMI is a member of an organization or is being helped by an organization, they always say "we're not afraid no matter how many times they protest! We won't be affected!" these things are often complained by a few BMIs especially those helped by ATKI-HK.
This happened to Tyas (25) BMI from Jember who has worked in Hong Kong for 5 years. In Thursday, April 6th 2012, KJRI staff named Ika refused to help Tyas get her passport and told her to go to her own agent. This was because since Tyas entered the room, Ika didn't feel like helping because Tyas's outfit was considered improper. That day, Tyas was wearing t-shirt, trousers, and sandal as she usually wears during her day off. The second reason was because Tyas is an active member of an organization which often held demonstration in front of the consulate.
"I don't care that you have many friends outside and I don't care you often join rallies, but if you go in here you have to wear proper outfit, this is an office not market" that's what Ika said according to Tyas.
Often KJRI staffs say they aren't afraid of being protested and say that rallies won't change their policies.
The question is, if the BMI who comes to KJRI runs away from the employer's house after getting unpleasant treatment, should the BMI dress properly and buy new shoes before filing a complaint to the staff?
How long will KJRI keep maintaining distance with BMI? KJRI should help BMI in trouble instead of adding to their problems with their indifferent treatment. KJRI always intimidates critical and progressive BMI and refuses to help them.
Is this how bad the attitude and behavior of our officials are nowadays?