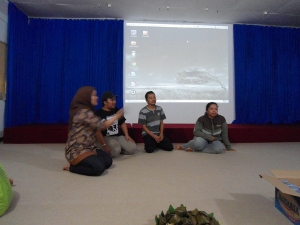 Thursday, February 23 2012, Indonesian Migrant Worker Resource Center hosted an open discussion with the topic of media for migrant worker's advocacy at the Jagongan Media Rakyat 2012 which took place in Akademi Pembangunan Masyarakat Desa (Academy for Village Society Development) or "APMD" Yogyakarta. This topic was chosen as the current development of media and information is arising and have an important role to support advocacy on migrant workers issue.
Discussion was moderated by Cindy Nur Fitri and hosted by Fathulloh, activist of Indonesian Migrant Workers Resource Center, Akhmad Fadli from Community Technology Center Cilacap, and Lily Purwani from SERUNI Banyumas.
Discussion was begun with 16 minutes documentary movie screening which titled "Mendorong Lahirnya Perda Buruh Migran" or the urgency of local regulation promulgation regarding migrant workers issue. This movie also described activities of LAKPESDAM NU Cilacap about their efforts on assisting migrant workers in their region. Discussion continued with reciprocal sharing regarding of the use of media for migrant worker's advocacy by the Indonesian Migrant Worker Resource Center.
Fathulloh started the discourse through his elucidation about IMWRC's experiences and stories to engage cyber community of Indonesian migrant workers all over the world. Lili Purwani, an expert of migrant worker's advocacy also an activist, also affirmed the importance of the use of media for the campaign of migrant workers protection.