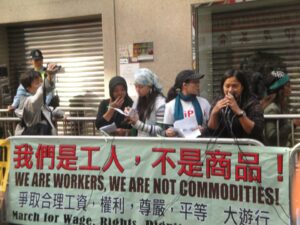 World Migrants Day which annually celebrated on December 18th, this year falls on Sunday. Around 500 Indonesian migrant workers which unite on "Calls off Law No. 39/2004 Alliance" which consisted ATKI, IMWU, GAMMI, LIPMI, dan PILAR gathered at Victoria Park since 11 am Hong Kong mean time. On 1 p.m. they started to walk to SOGO and headed to Indonesian consulate in Hong Kong. They gathered and conduct orations before the consulate office with the following demands:
Stop Corruption, Collusion and Nepotism
Calls off Law No. 39/2004 about PPTKILN immediately
Let workers make an independent contract with employer
Decrease replacement fee and promulgate a law on this matter
Calls off KTKLN policy
Protect the workers, not the agency
Stop wages robbery
Unfortunately, none of Indonesian Consulate officer came out to see the crowd and reply on their demands.
On 14.00, demonstrators, guided with Hong Kong police officer, left consulate office and mobilize themselves to Hong Kong Central Government Office and gathered with migrant workers from other nations in Hong Kong.
Around 1000 workers from around the globe, gathered and demand to Hong Kong government official to:
Raise the pay to HK$4000
Diminish policy about 2 weeks stay permit after contract terminated.
Stop discrimination
Acknowledge migrant as a worker
Migrant workers who work in domestic sector may only enjoy raise after they sign on the new contract. Those who work under old contract, shall do contract renewal to enjoy raise, which cost them an unfortunate amount.
Every year, World Migrants Day always being celebrated without no significant change for the wealth of migrants itself. They hardly got chance to involve on organization, even some of them still have to work on Sunday.
Have a fruitful World Migrants Day. Wish there would be a significant change on the improvement of migrant workers rights in the near future. [Fera]