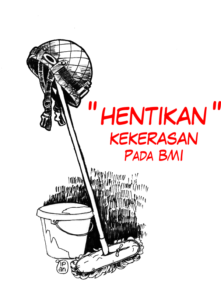 MATARAM – An Indonesian migrant from Sempakok, Santong village, Kayangan, North Lombok, Maryam (25), escaped from her employer's house in Arab as she suffered on domestic violence. Maryem helped by her employer's child who had pity on her condition while working on that house. She was sent to the airport and given some money.
Maryam reveals her bad experience on getting domestic violence in almost every time she does a mistake. Her employer tortures her in almost everyday during her 5 months of working which mostly in form of hitting and showering her with extremely hot water. "I can't take it all anymore, I finally escaped from the house with the help of one of my employer's child. He gave me 11 thousand riyal to fund my travel to Lombok. I have 17 million rupiah left now" said Maryam.
"I was treated very well at the very beginning, however after several months working, my employer used to get angry to me on the small things," said Maryam again.
Kamaruddin, Headman of Sempakok, Santong village confirms about this problem and said that he already report this issue to the Santong village authority. While Head of Department of Social and Manpower of Kayangan, North Lombok, H. Alwi, admits that he has not receive any notification from victim or local authorities. "With regard to how we respond to this issue, we need to wait on the official report as we need comprehensive information about the reason of her escape and company agent who sent her abroad," said Alwi on Monday (26/12). Maryam went to Arab 2 years ago with many other women migrants from Lombok by PT Deka Adi Perkasa, a company agent which located in Jakarta. Maryam left a husband and 2 kids to earn for a living as a housemaid in Arab. (rasidibragi/Ari Primadona)