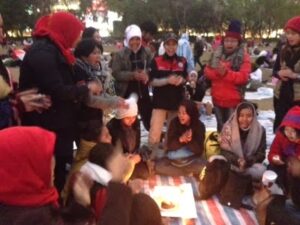 Setiap tahun Pekerja Rumah Tangga (PRT) di Hong Kong  memiliki hak libur nasional sebanyak 12 hari. Hak libur ini berhak diterima setiap pekerja sesuai dengan peraturan hukum ketenagakerjaan yang ada di Hong Kong. Berikut ini daftar hari libur tahun 2016 yang berhak diterima pekerja domestik di Hong Kong  berdasarkan website Departemen Perburuhan Hong Kong :
1. The first day of January (1 Januari)
2. Lunar New Year's Day (8 Februari)
3. The second day of Lunar New Year (9 Februari)
4. The third day of Lunar New Year (10 Februari)
5. Ching Ming Festival (4 April)
6. Labour Day (1 Mei)
7. Tuen Ng Festival (9 Juni)
8. Hong Kong Special Administrative Region Establishment Day (1 Juli)
9. The day following the Chinese Mid-Autumn Festival (16 September)
10. National Day (1 Oktober)
11. Chung Yeung Festival (9 Oktober)
12. Chinese Winter Solstice Festival (21 Desember) or Christmas Day (25 Desember) (Sesuai pilihan majikan)
Semua  PRT atau pekerja domestik berhak atas libur resmi di atas. Jika hari libur resmi jatuh pada hari istirahat, maka hari libur harus diberikan pada hari berikutnya. Seorang pekerja domestik yang telah bekerja di bawah kontrak terus menerus selama tidak kurang dari 3 bulan berhak atas gaji liburan yang setara dengan upah rata-rata harian PRT pada periode 12 bulan sebelumnya liburan.