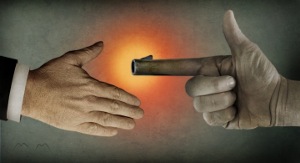 The case of 3 Indonesian Migrant Workers (TKI) from Eastern Lombok, NTB who were shot by Royal Malaysian Police some time ago seems to be coming to an end. Police stops the investigation of the case of the 3 TKIs. Lombok Post newspaper reported the news today.
The case of the deaths of three TKIs from Eastern Lombok (Lotim) which has been widely reported in the media is reportedly no longer investigated by National Police Headquarter. Autopsy results which state that there was no missing organ are deemed enough. "If there is another process, it will be the domain of Foreign Ministry (Kemenlu), not the police anymore." Said the head of public information bureau of National Police Headquarter, Muhammad Taufik to the media at his office yesterday. The one-star general explained that National Police had performed autopsy to the bodies and concluded that there was no organ theft. "The autopsy used standard forensic technique so the result is definitely can be accounted for." He said.
Lombok Post news paper also reported the family of TKI from Lotim who were shot by Royal Malaysian Police continues to search for justice. Yesterday, they went to Human Rights Commission (Komnas HAM), asking commissioner to investigate the shooting case and the suspicion of sale of the organs of the three migrant workers. "We will soon go to Malaysia to get detailed information." Said the commissioner of Human Rights Commission, Ifdal Kasim, during the meeting with the family of TKI who were accompanied by Migrant Care NGO in Komnas HAM, Jakarta, yesterday.