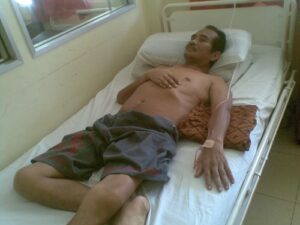 Jakarta,- Suparman, activist who handles cases in Migrant Labor Resources Center (PSD-BM) From Mekarwangi Network, and Nursalim (28) an activist from Crisis Center of Migrant Institute Dompet Duafa and Ajad Sudrajat, activist from Migrant Institute in Banten have worked on letter of recommendation from BNP2TKI for Johra's treatment in Sukanto Police Hospital in East Jakarta (11/04/12).
Based on the letter of recommendation signed by Head of Identification of Indonesian Labor (TKI) Data Collection Section, Dewa Made Bija Arnawa, right now Johra is in Sukanto Police Hospital. Johra and his family has left Banten and arrived in Jakarta at exactly 11.30 WI (12/04/12). Johra who is paralyzed due to a stroke when working as a TKI in Saudi Arabia immediately had X-rays, medical checkup, and became an inpatient in Mahoni 1 room.
"He is now no longer using infusion. He only should drink his medicine and undergo therapy provided by the hospital. Hopefully, soon the medical treatment goes well and there is no more obstacle," said Munjinah, Johra's wife when visited by Suparman (18/04/12).
Johra bin Sueb is one of the thousands of TKI stranded in Saudi Arabia who managed to be sent home. The effort to send him home is the result of the solidarity a few Arab Saudi TKI who collect and pressure Indonesian Consulate General (KJRI) in Jeddah to send him back to Indonesia. To this day, a few volunteers in Jakarta in his family can only hope Johra will get treatment and recover from his stroke.