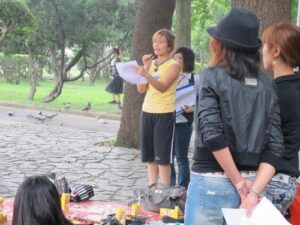 Sunday (15/04/12), activists of Indonesian Migrant Workers Association (ATKI) in Taiwan held a discussion about human trafficking and insurance with Indonesian Migrant Workers (BMI) from formal and informal sectors in Park 228, Taiwan. The event was attended by Butch from Asia Pacific Mission for Migrant (APMM), representative of Taiwan Indonesian Workers Association (IPIT), Taiwan International Workers Association (TIWA) and members of ATKI in Taiwan.
Butch, one of APMM activists, with Wazi Heng as a translator, taught many things regarding human trafficking to the participants of the discussion. According to the data Butch gathered, human trafficking victims in 2010-2011 were mostly from Indonesia, which were 175 people, while there were 84 people from Vietnam, 10 people from Thailand, and 14 from Philippines. Human trafficking happens because they are forced to work long working hours, pay extortions, have their documents taken and kept, and other forms of exploitations.
At the same event, Rudi (29), an activist of ATKI in Taiwan also explained BMI insurance. Future Indonesian migrant workers must pay insurance premium for Rp. 400.000 for coverage period of 2 years.
"Details of insurance premium for TKI are Rp. 50.000 for Pre-placement, Rp. 300.000 for placement period, and Rp. 50.000 for post placement. It means if the TKI experience trouble or misfortune, TKI can claim the insurance according to the type of the risk or amount of TKI compensation period which has been set." Said Rudi.
"There are differences between formal and non-formal TKI insurance in Taiwan. In formal sector such as factory worker, there are two types of insurance which are Astek and Askes, if a TKI experiences a misfortune, all of the cost will be covered by the insurance and he will receive compensation according to the type of the risk. While for informal TKI who become Domestic Worker (PRT) there is only one type of insurance, so if the TKI is sick, he will only get remission, and this is still made difficult by the complicated mechanism of claiming." Said Wu Yong Yik, representative from Taiwan International Workers Association (TIWA).
Knowledge on BMI issues will keep being socialized by ATKI in Taiwan to Indonesian workers thorough meetings, discussion, consolidations, and mass action (demonstration).