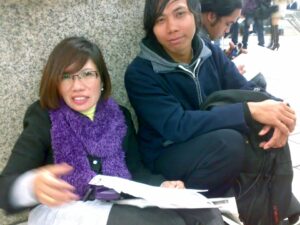 Taiwan is one of destination country which being chosen by Indonesian migrant workers to earn a living. Not only in domestic sector, had the availability of jobs in Taiwan also offered for seaman of ship crew.
The common problems of Indonesian migrants who work as seaman in Taiwan are the seizure of salary, no day off, no working limitation and many other problems which have not yet meet the solutions. If we refer to the current situation of Indonesian seaman in Taiwan, the issue may arise on the imbalance of regulations and the implementations in the field.
On Sunday (29/01/12), a number of Indonesian seamen in Taiwan meet Atin Safitri, Head of ATKI Taiwan in a train station in Taipei to discuss some problem which they are currently facing. Tumijan (26), elucidate about his company agent which ask him for deposit money. Tumijan witnessed that he obliged to pay 7 million IDR when he entered PT. Nuraini Indah Perkasa in Jakarta.
Tumijan also experienced pay cuts every month in the amount of Nt.5500 or approximately IDR 1.644.500 in the duration of 12 months. After received his job offer in Taiwan, Tumijan asked for deposit money by his company agent PT. Nuraini Indah Perkasa in the amount of 15 million IDR. His company agent said that this money will be returned if within 3 months there are no problem with his work. But how could Tumijan pay such a large amount?
Tumijan has no other choice, he need this job and he finally sell his motorcycle and got 5 million IDR and borrow the rest 10 million from Koperasi with interest 300.000 IDR. "However, my company agent gave me a receipt which stated that I have paid 13 million IDR. When I asked for their confirmation, they turn their words and didn't reply me," said Tumijan to Atin Safitri.