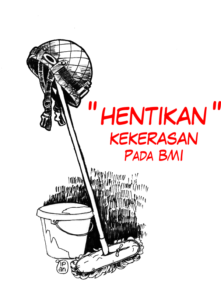 BANYUMAS. The government has tried to make Indonesian Migrant Workers (BMI) who just return from abroad feel safe when they arrive at Sukarno-Hatta Airport. A special facility for BMIs is built, and is separated from regular passengers.
Terminal 4, as a temporary transit place before they go to their hometowns, is not as 'fierce' as before. The point is, the country wants to make the 'heroes of foreign exchange' safe until they return home.
Government's commitment to protect BMI is the complete opposite of the reality. Reports from former BMIs during village discussion held by SERUNI, regarding hidden extortion, is quite shocking. It turns out that there are practices from certain individuals which are very disadvantageous to the BMIs.
"Usually we are asked to pay unusual costs. Higher than the usual price," said Sugiarti, former BMI from Karang Kemojing village.
She experienced this herself when she returned from Saudi Arabia. Travel service which escorted her from Sukarno-Hatta airport to her home, asked for a very high price. According to her, the individual kept on demanding to pay the price they demanded for various reasons. Eventually, Sugiarti obeyed them.
Sri Setyowati also experienced the same thing, but in a different method. The former BMI from Paningkaban village experienced covert extortion when she returned from Taiwan.
"We stopped at a restaurant. And then we were forced to eat there, although we weren't hungry. And we're also paying." Said the PNPM activist in her village.
Families of BMIs in Gumelar sub-district, hope that the covert extortion cases are immediately stopped by the authority. All this time, many BMIs and the families are worried about the practice. (F:)