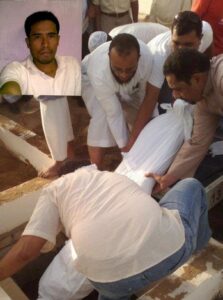 Jakarta, Rahman Bin Sapra, Indonesian migrant workers from Kedung Kuali, RT.09, RW 03, Bendung village, subdistrict Tanara, Serang residence, Banten Province who died of accident was buried in Arab Saudi (14/03/12).
His body was buried on 2 p.m. local time. Jamil as volunteer of community of Indonesian migrant workers in Jeddah, Saudi Arabia stated that Rahman Bin Sapra was graved in Maqbarah Harakat public cemetery, in the area of Albruk Alruqama kilometer 14, Jeddah Saudi Arabia.
Rahman bin Sapra departed to Saudi Arabia for work on 2008. He was departed using omra visa through an omra travel agent named Al-Hikmah at Serpong Tangerang through a sponsor or broker named Komar.
Sanah (31), Rahman's wife and his family expressed their gratitude to all parties who helped them to take care of his body, clean his body, pray for Rahman also those who helped them during funeral. Rahman's family felt so touched after receiving pictures of his funeral which directly sent by Jamil through Arman, activist of Indonesian Migrant Workers Resource Center.
Currently Sanah and family hope that there will be a respond to the accident which happened to her husband. As his death was truly caused by accident, which Rahman got hit by a cab owned by Sakinah Corporation, family hope that they will be given a compensation for the loss of their beloved family.