Indah (30), for the second time registered as Indonesian migrant worker to Malaysia. Shortcomings of financial situation forced her to work abroad, as after the birth of her third children, her husband left her and she have to earn for the living of herself and her 3 children.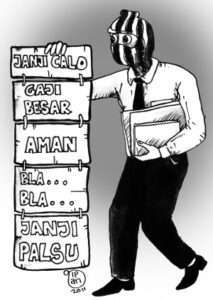 Indah registered herself to work through Haji Yamin which live in the different village, by Haji Yamin made her a tourist visa which cost IDR 3 million, however as she waited too long, Indah's neighbor suggested her to go abroad through a help from her other neighbor whom experienced to work abroad and currently work as "tekong".  Indah followed the suggestion, get her passport from Haji Yamin and hand it to Zainal, the aforementioned "tekong".
A week after, other "tekong" came to Zainal's house and the day after, Indah was brought to International Airport of Lombok and flew to Jakarta. 3 months in Jakarta, Indah had to take care of laundry and cook for other migrants at the shelter. To fund her own expenses, she earn from working as massager at the shelter.
After 3 months working at the shelter, Indah collected IDR 300 thousand from working and IDR 900 thousand which she earned by selling clothes and veils. Indah used her money to fund her travel back to Lombok. Now, Indah has returned to her homeland and in debt for IDR 2 million.