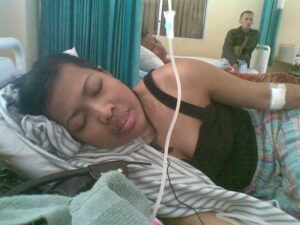 Lia binti Sanali, Indonesian migrant workers from Wanagopa village, RT.02, RW.04, Kerman, Subdistrict Warureja, Tegal Residence, Central Java passed away on Tuesday evening (28/02/12) at Regional Public Hospital RSUD Kardinah, Tegal.
Lia Binti Sanali who returned home from Arab Saudi as she suffered on kidney disease, was previously hospitalized in Indonesian Police Hospital RS Sukanto Eastern Jakarta before being transferred to RSUD Kardinah. This obituary news was informed by Jamil Lee, an Indonesian migrant worker in Arab Saudi through social media network.
"While being hospitalized in RSUD Kardinah Tegal, Lia had two dyalisis. On Monday (27/02/12), her physical condition decrease significantly and her body was stiffed, after doctor confirmed that she already passed away," said Sugiono through a phone call.
According to Sugiono (31), Lia's brother in law, Head of Manpower Department of Tegal region also appeared on Lia's funeral and addressed his condolences to Lia's family. Family of Lia send its gratitude also apologize to all parties who already put their best effort to help Lia and her family.