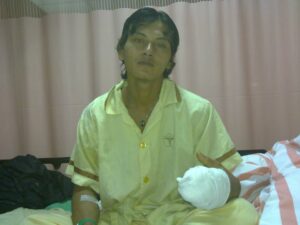 On Sunday (29/01/12), a number of Indonesian migrants who are working as ship crew meet Atin Safitri, Head of ATKI Taiwan in a train station in Taipei. It was told that Sahudin ( 26 ), an Indonesian migrants from Brebes which used to work as ship crew in Taiwan, got an accident while he was working (18/12/11).
Sahudin was in charged on holer machine, he operated the machine according to standard of operational and procedure. It was unexpected that 4 of his fingers cut by the machine, he collapse that moment. Sahudin was immediately taken to the nearest hospital, Kee Lung Hospital.
"We put our best attempts to help Sahudin get his insurance claim. We report this issue to Indonesian Migrants Consortium, however they said that Sahudin is not registered on their database. How ironic that his agent cut his salary every month but he didn't being registered to an insurance protection by his agent. This kind of issue is a common problem for Indonesian workers and the government shall not remain silent on this matter," said Atin Safitri.
Anyone who is going to work in Taiwan should be really careful on any sweet promises from a broker. A migrant-to-be shall not sign any suspicious documents and if something bad happenes upon their arrival in Taiwan, no one may surrender on their existing contract if there is any unfair clause within. Most of Indonesian migrants who come to Taiwan bring many problems and moreover they also need to face more troubles with their agent or employer. Indonesian migrants should stand over expropriation and suppression, no matter what.