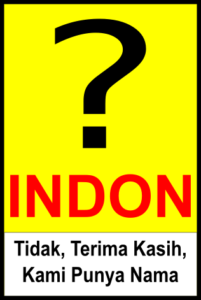 The so-called "Indon" nickname which given to Indonesian migrants apparently not only used in Malaysia but also wide-spread rooting in almost entire of Malayan land, including Brunei Darussalam. In some particular circumstance, this nation used to follow Malaysia as their close to each other geographically.
Malaysian newspapers also spread and being read by almost a million total population of Brunei. Malaysian TV, both private also government channel, also broadcast in Brunei and being watched by Brunei peoples. Therefore, what happen in Malaysia, in terms of culture and social life also affects Brunei.
"Most of newspaper and magazines which circulated in Brunei are coming from Malaysia," said Kholisin, Indonesian migrant workers from Kecila village, Sumpiuh, Banyumas who already been working for 6 years in Brunei, through SMS (31/12/11).
The so-called "Indon" nickname which addressed to Indonesian migrants also often heard. According to Kholisin, he also ever being called by that nickname when his employer angry. Moreover, any other dirty and rude words also often spoken by his employer.
"Whenever my employer gets angry, they used to cursed and addressed me with "stupid indon" or "ugly indon". We considered those names rude and discredit us", said this guy whom married to migrant worker from Kediri, East Java.
The other experience from M Kabul Budiono, senior announcer from RRI National Jakarta, when he visited this tiny nation which located in Northern Kalimantan on December 2011. The Announcer got a positive response from his colleague from RTB (Radio and Television Brunei).
"We were very well welcomed and respected. Our colleague from RTB said that "indon" nickname in Brunei was not really meant to discredited Indonesian nation," said Kabul on his writings in Kompasiana.com.
A news from Malaysia, as published by Koran Malaysia and Utusan Melayu, that there is a Malaysian parliament member who raise a motion to Malaysian government to allocate special budget for socialization about "Indon" terms to Malaysian people, not to be define as negative terms. (sus)