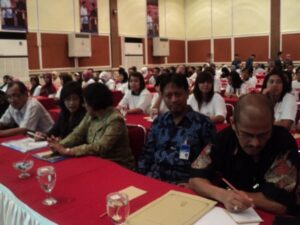 Bank Mandiri visited Banyumas residece for 2 days (2-3/11/2011), in order to held a dissemination or information sharing for many migrant workers to-be and their family which took place in Horison Hotel, Jalan dr. Angka Purwokerto. Drs. Mardjoko, MM as Banyumas regentman, was invited and given chance to officially open the event. On his welcoming speech, Mardjoko addressed several matters which related to migrant workers to-be and its family.
Before elected as the most important person in Banyumas, he worked in the Ministry Finance also ever placed in some foreign countries such as Australia and Europe. Mardjoko then suggest to all migrant workers to-be in his region to conduct a research and gain information on characters of citizen of their destination countries.
"It is heart skipping to hear many cases from Indonesian migrant workers from overseas, especially for those who are accused on death penalty. That is why I really concern on preparation phase, that you may not only focus on imagining how high your salary would be and avoiding risks." said Mardjoko before 400 migrant workers to be from Banyumas and Cilacap.
"For instance, in Singapore, people tend to live in a tall apartment. In this case, workers shall know how to work in apartment and take care of your safety while hanging your clothes, which of course way far different than how people hung clothes to dry in Java. Situation is also different in Arab, which house are mostly are sealed, so that it is hard to get to know and communicate with surroundings. This situation is risky for many crime like sexual harassment and domestic violence to happen. That is also an important point to be known by all of you, while preparing your mental," said Mardjoko which followed by applause from the audiences.
Regent Mardjoko also explained character of peoples in Malaysia, Taiwan and Korea. He said Malay are sadis, despite the fact that Malay are so called 'tribe family' of Indonesia. He also suggest for those who are about to work in Taiwan to be familiar with tang smells, as many Taiwan dishes are made with swine oil. Mardjoko also demands workers who are going to Korea to be more creative as Korean jobs are mostly on technological transition.
Bank Mandiri itself focus on socializing their products, such as KUR/Kredit Untuk Rakyat (Loans for the Peoples) including many privileges for migrant workers and family. This event also attended by representative from the Ministry of Manpower and Transmigration also Ministry of Economic. Also attend, representative of some non governmental institution, such as Dompet Dhuafa, Lakpesdam NU Cilacap, and Seruni Banyumas. (SusWoyo)