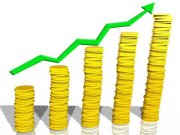 Irresistible temptations is a challenge for those who live in Hong Kong, including to many Indonesian Migrant Workers who used to tempted on shopping and chill out at mall during their day off on Sunday. There are many of them trapped on glamorous Hong Kong lifestyle, while some of them remain live a simple life and do some investment.
"BMI Hong Kong Sadar Investasi" or BHSI (Indonesian Migrant Workers in Hong Kong Investment Awareness) which established on August 19th, 2011 is currently have 1,030 members and being a facilitator to migrants in Hong Kong to raise awareness to invest in order to manage their financial plan for a brighter future.
"Menabung itu biasa, tapi berinvestasi ini baru OK" ("Saving is Usual, while Investing is Unusual/OK") is a motto for BHSI. They teach the member about good and proper investment also explain about many kind of investment, such as gold, land, property, funds, and many more. According to "Petani Saham" ("Share Farmer"), display name on their facebook account, this group was initiated in order to raise investment awareness among migrant workers.
One day, there is one migrant who cries whenever she saw BHSI's facebook page. She admit that she just paid a bank debt of a friend on a big amount. The payment will be done this month, while she's having one year remain for work in Hong Kong. She ask for a reference, whether she shall use the money for bank saving or to invest on a goldbar. This question attracts many responses from other BHSI's members.
BHSI's account facebook is always happening. There is always new update and comment on the latest rate of gold, foreign exchange, and many other useful information. They are also used to conduct a gathering at Victoria Park during while they off duty. The members are hoping that there will be many other Indonesian migrant workers who will notice the urgency of investment for their future.