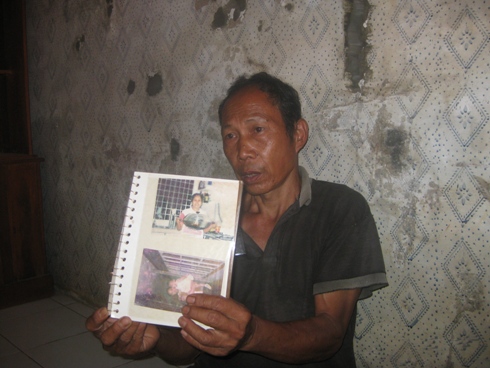 "Ni mas bu Tarti nya sudah diterbangkan dari Malasyia ke Indonesia. Sekarang bu Tarti ada di Rumah Sakit POLRI Kramatjati, Jakarta Timur,"
(Son, Tarti had flew back from Malaysia to Indonesia. She is currently in POLRI Public Hospital Kramatjati, East Jakarta)
That was a text which sent to my phone on Thursday, October 27, 2011 on 07.13 p.m. This text was sent by Tarti's family in Majenang, a family which I ever visited several days ago.
On Thursday afternoon, before I received the text, my wife also called by someone from Malaysia. This person inform us about planning on sending Tarti home. This person could be staff of Indonesian Embassy in Kuala Lumpur or Tarti herself. I noticed that I used my wife's cellphone and make a call to Tarti in Malaysia few days ago.
As previously reported, Tarti, a migrant worker from Majenang Cilacap, suffers on backbone tumor. She was hospitalized in Teungku Ampuan Rahimah Klang Hospital Malaysia and wishes to sent back home.  Tarti was planned to sent back home on October 16 2011 by Indonesian Embassy in Kuala Lumpur, but this plan was just happening on October 27 after went through several communication phase.
Upon this date of report, Tarti is still in POLRI Public Hospital Kramatjati Jakarta for medical treatment.