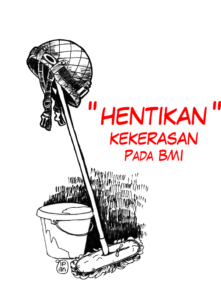 Western Lombok – Problem about migrant workers has never come to an end, even worse in the late decade. That is currently happening with Indonesian migrants from Western Lombok. During 2011, there are no less than 26 cases of migrants which happened in the region during pre departure, while working, as well on the return of migrants to their homeland.
Basic problem of all listed cases, as elucidated by Head of Manpower Department of Western Lombok HL Surapati, are mostly because they illegally depart to work with no sufficient official document. "We investigate this issue and figured out that most of migrant company agent are coming from outside this region. They tempted locals with high pay with short process of departure." said Surapati.
Surapati elucidate the latest case is the death of two migrants from Sekotong, Western Lombok in Syria and Damascus. There were no official agreement for working placement at that destination country. However, as they are coming from his region, this case becomes his responsibility. "Their family have agreed and acknowledged by Sekotong village headman, that they are buried in Syria.
Surapati said, in order to prevent the same thing happen to the other migrants,  government of Western Lombok attempt to conduct socialization to the citizen in the region about the official procedure of being a migrant workers. This is to make clear that in order to pursue a successful work abroad, a migrant-to-be need to prepare official documents and follow through the right procedure.
Surapati emphasize migrants-to-be from Western Lombok to hand their ID card, family document, and skill proficiency. "Everyone should not tempted with such fake promises from the company agents which mostly are going to send them work with illegal procedure", said Surapati. (rasidibragi/hernawardi)