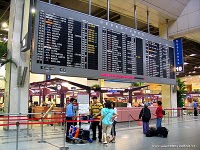 Ella, work in Hong Kong
Ella has been working in Hong Kong for almost 10 years and May 2011 was her third returns to Indonesia and this is for first time she took a flight which landed in Soekarno Hatta (Soeta) Airport Jakarta. Her previous travels were using Juanda International Airport Surabaya, since this airport relatively near from her home in Ponorogo.
Migrant workers who landed in Soeta shall go through Terminal 4 as their exit gate. At that moment, Ella was not returning to Ponorogo, therefore she request to exit through Terminal 2 to the airport officer, as written on her ticket. Airport officer refuse to fulfill her request and they caught on a debate. Ella insist to exit through terminal 2 as she is going to Jakarta, but the authority force her to leave through terminal 4. Airport officers then took her passport and brought her closer to terminal 4. Ella tried to rebel and ask her passport back, but they simply didn't care. "You are migrant worker, thus, just go through Terminal 4."
"Sir, I noticed that it is written that I live in Ponorogo and I have to go through Terminal 4. But please understand that I am currently living in Jakarta. Please let me go through terminal 2 or I will report you to police?" said Ella.
"That is not allowed, you should go through terminal 2." officer replied.
"Sir, I am living in Jakarta, so what's the point of going to Ponorogo?"
"That's the regulation."
"I don't care. Please give me back my passport now. I want to go home to Jakarta through terminal 2. End of story!"
Ella was on her wits end dealing with this arrogant officer. It is true that in her passport it was written that she is living in Ponorogo, and according to some story from other workers, that any workers who returns via Soeta airport should go through terminal 4 for their exit way, which is specialized for migrant workers. On terminal 4, some travel coach already stand by to took them home.
Ella finally went to terminal 4 as requested so and already stand by some travel coach to took her home. Ella went to her house in Jakarta after waited for many hours.  She landed on 8 pm and left on 3 am. She need to waste her precious time on dealing this. She is lucky that there are no family which pick her on the airport, because if there is one, workers should pay no less than 700 thousand rupiah. The existence of terminal 4 for Indonesian migrant workers not only a degradation on worker's rights but also took their precious time with family as they have very limited time to be with their beloved family.
Ella also didn't get a proper treatment from coach driver. Ella should pay 10 thousand rupiah to make her suitcase get into the car.  Drivers also ever thrown cynical statement when workers give them less. When she arrived at house, again, the driver ask for another payment. Ella gave him 20 thousands, since her house only 15 minutes away from the airport. The drivers ask for more, and Ella finally add 10 thousand more. Ella couldn't imagine how much they would ask for others who live 4 or 5 hours away from Jakarta.
Ani, work in Hong Kong
Ani, a migrant worker who own a passport with East Java address, was given 5 days off on May 2011 and decided to stay in Jakarta. She noticed that many of her friends obliged to use aiport coach to return address stated in passport, but she is still chose to landed in Jakarta. Ani, who is also active in Dompet Duafa (DD) Hong Kong, is given an official vest and letter from Dompet Dhuafa  to be shown upon her arrival. Fortunately, she faced no challenge and went to terminal 2 and easily continue her journey. Without vest from Dompet Dhuafa, she might also taken to terminal 4 as she witnessed happening to many migrant workers after their passports were being examined.
Story from Nuri, migrant worker from Semarang 
On June 2011, Nuri, was given holiday for 2 weeks since her employer went overseas. She is given a return ticket Jakarta-Hong Kong, while her house is far away in Central Java. She shared her fear on landed in Soeta airport while she meet other workers in Victoria Park.
Some of them suggest her to land in Soeta to witnessed and check the reality, while some of them suggest her just to transit in that airport and purchase for another flight to Semarang, rather than having issue with some unfriendly officers in Soeta airport. Nuri finally chose second option and landed in Semarang to avoid any circumstance in Jakarta and to have her family pick her up in Semarang.
Wina, migrant worker in Taiwan from West Java
According to Okti Li,  migrant worker in Taiwan, once upon a time, her friend "Wina" returned to Indonesia as her father was critically ill. Wina live in West Java, thus, she must landed in Soeta airport. Her family have waited on arrival hall, but Wina didn't allowed to left home by herself. An officer ask her to go to terminal 4 instead.
Wina cried her eyes out, but they didn't even care. As she waited too long in migrant worker's gate, her father passed away. She also have to wait on the airport coach until the car fully loaded by passengers.
Upon her arrival in Taiwan, she wrote on the local newspaper to be forwarded to Minister of Manpower and Transmigration, Muhaimin Iskandar. Muhaimin only give an occasional response, "We will take note on it."
As far as I can recalled, when I went back to Indonesia, many workers said that they feel much more relax on their departure to Hong Kong. But they will caught in fear on returning home. They fear on trouble which may happen when dealing airport officers.
When Indonesian migrant workers named as hero, since they contribute a huge amount to state's income, why do they always treated improperly? When will this silly routines ends actually?